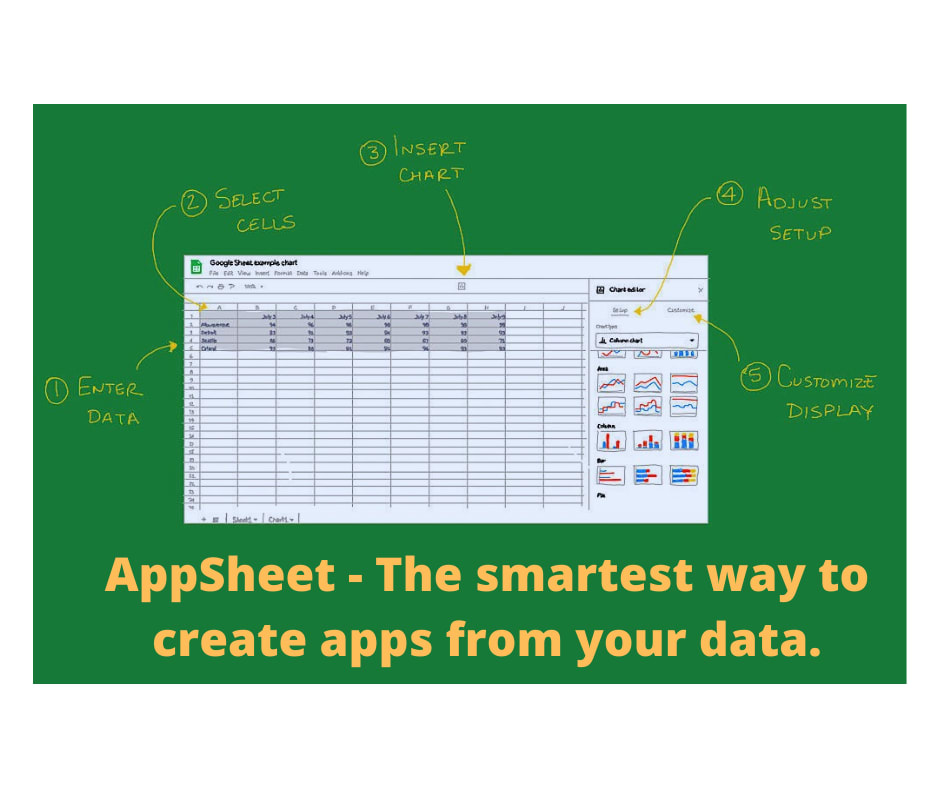 DO NOT put your data in spreadsheets!
02 এপ্রিল 2022
Do not put data in Excel sheets or Google spreadsheets directly!
Putting data in Microsoft Excel or modern Google Sheets is a famous and traditional way when we think about gathering any amount of data. Generally, it's the most effective way to do that. But, if you do this daily and you have a number of team members and they work along with you it's absolutely boring and meaningless. Because you have to put data by selecting row and column again and again. Most importantly, when we work as a team and your team has a number of members and they put the same data for the same purpose, we face a lot of problems. Google Cloud AppSheet comes here to assist us and solve all of these problems.
# What is AppSheet?
AppSheet is an application that lets a user a no-code development platform. By using the AppSheet platform anyone can build an application for mobile, tablet using data sources like Google Drive, Office 365, Dropbox, MariaDB, Google Cloud SQL, Amazon RDS, Oracle MySQL Cloud Service, or other cloud-hosting provider that supports MySQL. Though it helps us to build a dynamic application to deal with our data, actually, it allows us to put data in the database or a spreadsheet in smartest way.
# Why use AppSheet?
AppSheet can provide versatility to a user in many ways. Here are some of the most common ways…
• Effectiveness: Using the AppSheet platform to manage your data is increase your organization's effectiveness.
• Inventory: Tracking inventory and other company assets manually using spreadsheets or paper is time-consuming, and error-prone. Using AppSheet, you can build an inventory, or assets tracker app to track the company assets in real-time.
• Customer Supports: Ensuring a smooth customer experience for your customers goes a long way to building loyalty for your product and company. Using AppSheet you can build various front-line customer experience apps for product safety alerts, appointment management, check-in or check out, HR Management, etc.
Plenty of operational processes that are involved in many functional areas of an enterprise. These functional areas can include office automation, customer engagement, field services, and logistics, accounts, projects management, task allocation, etc.
AppSheet can be used to build apps to implement these types of processes. Think about a process or problem in your business and company that's currently manual or tedious. Can these processes or tasks be automated using an app?
By implementing an app to replace those tedious and manual tasks, will users who use the app become more efficient, and have the whole process completed on time.
# Is AppSheet is Safe?
Developing an app using AppSheet platform is overwhelming. To develop a business or any other business-related app you can reduce the backlog for IT. Improving security when creating custom apps with coding can lead to various security issues. Such apps are difficult to secure. On the other hand, Where creating an app with AppSheet platform you can rest assured that all of your apps will have strong foundational security elements in place. That includes industry-standard security protocols to ensure data is secure and build-in mechanisms to prevent unauthorized users from seeing sensitive data.